Dell Networking MXL 10/40Gb Ethernet Blade Switch

Switch to faster data transfers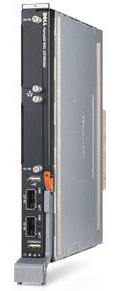 Sorry, this product is no longer available, please contact us for a replacement.
Overview:
Consolidate virtualization benefits in M1000e blade deployments and apply more bandwidth to critical network links with the Dell Networking MXL 10/40GbE switch.
Improve infrastructure performance
Help ensure high-speed support for the growing number of required virtual machines (VMs) per physical server with standards-based 10/40GbE connectivity.
Change your economies of scale and help stretch your infrastructure budget by doubling your nodes per chassis from 16 to 32 with the Dell Networking MXL switch and PowerEdge M420 blade.
Replace multiple GbE NICs, mezzanine cards and switches with fewer, higher-bandwidth 10GbE NICs and I/O modules (IOMs) per blade chassis.
Reduce physical port connectivity requirements between top-of-rack (ToR) and blade servers with local switching, and help improve east-west traffic performance within the M1000e chassis.
Achieve Ethernet stacking using 40GbE ports and direct attach cables in a ring or daisy-chain topology. Stacking enables scalable network switch growth for up to six interconnected IOMs managed as one logical device across a single M1000e chassis or multiple chassis.
Improve system flexibility
Improve data center flexibility and utilization with 10GBase-T, SFP+, and QSFP+ FlexIO modules for the Dell Networking 10 MXL switch.
Dell Networking 10 MXL includes 32 internal server-facing ports, two fixed 40GbE QSFP+ ports and two optional expansion slots.
Optional FlexIO modules enable rapid network upgrades (Dell Networking 10 MXL supports up to six external 40GbE ports or 24 external 10GbE SFP+ ports) when business demands require higher data center performance.
Maximize functionality
Virtualize, automate and orchestrate networking functions and services with the reliable and feature-rich Dell Networking Operating System (FTOS).
Leverages a distributed multiprocessor architecture that offers best-in-class performance, stability and reliability
Provides software portability and modularity for high-performance application features
Hardware abstraction layer (HAL) makes FTOS applications portable across products
Includes industry-standard command-line interface (CLI)
Interoperable with third-party vendor products
Operate with confidence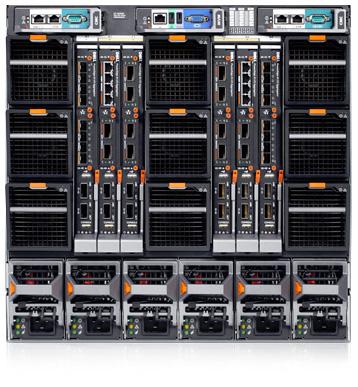 Help reduce cost and complexity by simplifying management using the Dell Networking 10 MXL 10/40GbE Switch, which supports the following features:
Hardware stacking using 40GbE ports, which enables scalable network switch growth for up to six interconnected IOMs that are managed as one logical device
High-performance, high-density, full-featured L2 and L3 switching and routing using industry standard CLI
Bare-metal provisioning that reduces installation time, helps eliminate configuration errors and enforces standard configurations by automatically configuring network switches
32 internal 1/10GbE ports as well as two integrated 40GbE QSFP+ ports and two optional FlexIO modules
FlexIO modules that provide two 40GbE QSFP+, four ports SFP+ or four ports of 10GBase-T to help ensure room to grow
Plan for the future
Help protect your investment. Harness industry standards and technologies for seamless integration while future-proofing the data center solution. The Dell Networking MXL 10/40GbE Switch offers:
Full IEEE Data Center Bridging (DCB) compliance for converged I/O switching, allowing lossless Ethernet connectivity and transport for DCB and iSCSI Type/Length Value (TLV) traffic
Improved hardware support for Data Center Bridging Capability Exchange Protocol (DCBx), Priority Flow Control (PFC) and Enhanced Transmission Selection (ETS)
Support for iSCSI, NAS, converged Ethernet and Fibre Channel-based storage applications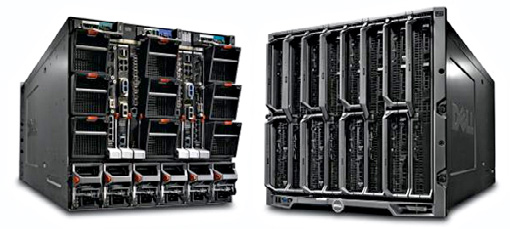 ---
Pricing and product availability subject to change without notice.