Dell PowerEdge M I/O Aggregator

Consolidate your network

Sorry, this product is no longer available, please contact us for a replacement.
Overview:
Simplify network management and increase server bandwidth with the PowerEdge™ M I/O Aggregator, enabling easy, plug-and-play data center convergence.
Build your ideal data center
Optimize network performance and maximize the benefits of convergence with the Dell PowerEdge M I/O Aggregator, part of Dell Active System framework, an integrated framework for convergence that is simple, complete and flexible.
The Dell PowerEdge M I/O Aggregator blade is a component of the Dell Active System 800, a pre-integrated converged infrastructure solution. Pre-engineered and pre-assembled converged solutions from Dell offer outstanding agility and efficiency to help optimize your data center.
Consolidate through virtualization
PowerEdge M I/O Aggregator extends the consolidation benefits of virtualization by replacing multiple GbE NICs, mezzanine cards, and switches with fewer, higher-bandwidth 10GbE NICs and I/O modules per blade chassis.
Maximize your bandwidth
Take advantage of 10GbE capability to meet the bandwidth demands of multi-core CPUs and to build your server capacity without overprovisioning your data center.
With support for 10GbE in the PowerEdge M I/O Aggregator and support for 10GbE NICs in the server, your network can utilize the additional bandwidth of each individual server. This helps provide support for the growing number of virtual machines (VMs) per physical server.
Offers efficient installation and easy expandability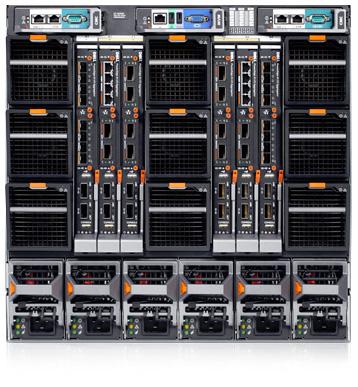 With no-fuss installation and simple network integration, the Dell PowerEdge I/O Aggregator can be ready to work right out of the box.
The Dell PowerEdge I/O Aggregator comes install-ready with all ports active, enabling quick integration without concern for license upgrades. It can connect to 16 or 32 blade servers internally via SNAs or mezzanine cards located in the servers.
IT Administrators can start with the base model's standard 40 10GbE ports (32 internal + 8 external), then expand their network with the addition of up to 2 optional FlexIO modules to utilize up to 16 10GbE ports:
2-port 40GbE QSFP+ module (8-port 10GbE SFP+ using breakout cables)
4-port 10GbE SFP+ module
4-port 10GBASE-T module 
Enables flexible connectivity for maximum versatility
Optimize your IT schedule with an aggregator that offers simple deployment and plug-and-play connectivity, creating a nimble and flexible data center.
The Dell PowerEdge M I/O Aggregator blade offers low- to no-touch deployment with exceptional flexibility. It offers significantly simplified network management and a configuration that enables instant "plug and play" connectivity to Dell and multi-vendor networks.
Helps conserve space and reduce power consumption
Consolidate space and help improve power efficiency with the PowerEdge M I/O Aggregator, offering exceptional performance at an outstanding value.With standards-based 1/10GbE connectivity in the PowerEdge M I/O Aggregator, IT managers can connect to their LAN of choice quickly and easily. The PowerEdge M I/O Aggregator is fully IEEE DCB compliant for converged IO supporting iSCSI, NAS, converged Ethernet and Fibre-Channel-based storage applications. By reducing infrastructure requirements for both blade servers and interconnects, you can optimize your data center operations and realize cost reductions for your business.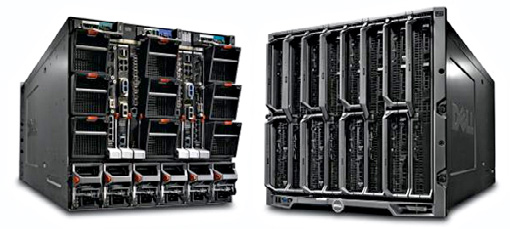 ---
Pricing and product availability subject to change without notice.