Dell Wyse TCX Optimized Multimedia Performance

Boost Performance for Cloud Clients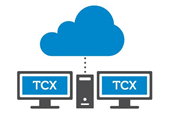 Sorry, this product is no longer available, please contact us for a replacement.
Provide a rich multimedia experience and support multiple displays on Dell Wyse endpoints with Dell Wyse TCX desktop virtualization software. TCX uses a collaborative processing architecture to divide the workload between the server and client, dynamically shifting the workload to the client's processor when needed. It helps established protocols work efficiently and can add valuable functionality to your virtual desktop environment, including:
Synchronized audio and video using the local processing power of the Dell Wyse cloud client to decode multimedia streams.
Seamless integration with a wide range of environments, including support for Microsoft Remote Desktop Protocol (RDP), Citrix XenApp™ and Citrix XenDesktop™.
Relief for your server's CPU with help from software that intelligently divides workloads between the server and the client.
Enhance your user experience
Dell Wyse TCX removes the traditional limitations of virtual desktop environments and offers a full set of software solutions designed to enhance the user experience:
Multidisplay: Provides the extra screen space users need to multitask effectively. Lets users display one or more windows on up to four monitors.
Multimedia: Optimizes multimedia streaming to offer a smooth, full-screen, full-frame-rate experience. Supports Windows media playback across multiple displays simultaneously.
USB virtualizer: Offers optimal USB device detection, visibility and functionality. Lets users connect devices such as headsets, webcams, printers and multifunction devices locally to cloud clients.
Flash Redirection and Flash Acceleration: Flash Redirection helps to improve Flash video performance without requiring a client-side Flash player. Flash Acceleration provides high-quality audio performance for Flash videos.
Rich sound: Provides high-performance, bidirectional audio that is ideal for IP communications in virtual desktop environments. Eliminates the need for a separate IP phone unit.