Dell Wyse Device Manager

Powerful and Secure Thin Client Management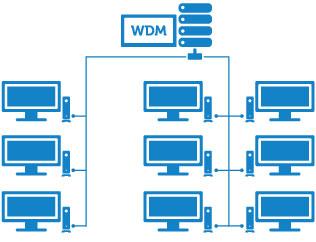 Sorry, this product is no longer available, please contact us for a replacement.
Overview:
Secure, highly scalable software designed to help you manage and monitor Dell Wyse thin and zero client desktops and help maximize user productivity.
Easily manage your Dell Wyse endpoints, from only a few to thousands, with Dell Wyse Device Manager (WDM). Powerful, easy to use and highly scalable, WDM software enables you to configure, monitor and manage Dell Wyse endpoint devices. From a single console, you can easily issue software images, patches, updates and add-ons, and manage all aspects of remote cloud clients — helping to ensure peak user productivity at your endpoints.
Not only manage, but help protect your distributed computing environment with included security features:
HTTPS communications: Manage endpoints using fully encrypted, HTTPS-based transmissions.
Secure remote imaging and updates: Enable IT to securely update and image clients remotely.
Common Criteria EAL2 certification: Work confidently with an established and secure solution.
Highly scalable and easy to deploy
Easily scale your WDM solution and manage thousands of devices, all from a single management server. Automated device discovery helps streamline your expansion, while bandwidth optimization features help maintain performance at endpoints. WDM installation is made simple with a prerequisite checker and easy configuration of add-on components.
Choose a WDM solution that is right for you, based on the scale of your distributed architecture and your management needs:
WDM Workgroup edition: Ideal for small to midsize businesses, this software is included with all Dell Wyse thin and zero client devices and offers comprehensive management and control.
WDM Enterprise edition: Designed for large organizations, this software can support thousands of clients and includes increased device management capabilities and security.
Central administration and monitoring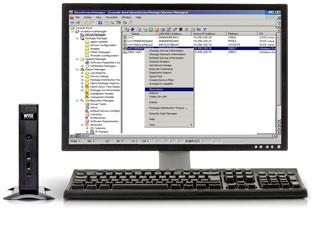 Deliver real-time client management and performance monitoring with WDM, an ideal solution for organizations needing powerful cloud client management. Track your assets, manage policies and provide enhanced remote support for users. WDM includes a deep set of management features:
Asset tracking: Generate detailed reports to track health and performance of hardware and software assets.
Policy management: Issue, manage and update polices across an organization. Create groups of local and remote devices, each with specific requirements.
User support: Provide users with cost-effective, one-to-one IT support without physically having to visit your endpoint devices.
Device management: Quickly restart, shut down or Wake-on-LAN (WoL) thin clients.