Dell PowerSwitch Edge Switches

Modernize Network Edge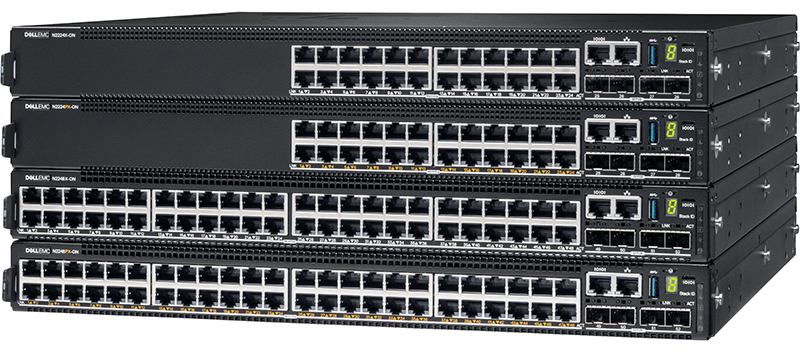 Dell PowerSwitch E- and N-series extend open, standard-based switching technology to network edge, helping you enhance workforce productivity with network bandwidth intensive applications and greater automation with larger number of PoE powered devices and IoT at the network edge.
Dell Edge Switches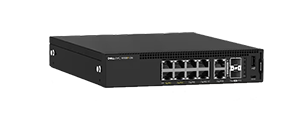 Fully managed ONIE enabled, Open Networking switch, ideal for fast-growing GbE networks that require layer 2 switching, high-density aggregation and Power-over-Ethernet (PoE).
Offered in one configuration: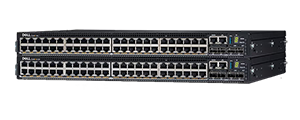 Purpose-built 48-port multi-gig switches for modern edge, with up to 90W PoE per port.
Offered in 2 configurations:
48 RJ45 ports of 1G with 30W PoE, 4 ports of 10G and 2 ports of 100G for uplink
48 RJ45 ports of 10G with 90W PoE, 4 ports of 25G and 2 ports of 100G for uplink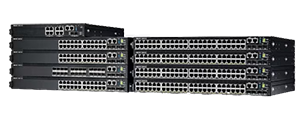 Purpose-built 8, 24 and 48 port Multi-Gig and Multi-Gig 802.3bt 90W PoE switches for modern workloads and greater employee productivity.
Offered in 9 configurations:
24 port copper, fiber and PoE+
48 port copper and PoE+
32 port multi-gig 1G/2.5G/5G PoE+
Open Networking to the Edge: Now, that's a switch
Dell PowerSwitch E- and N-series are energy-efficient, cost-effective 1GbE, 10GbE and 25GbE Open Networking switches designed for modernizing network edge. Delivering a great choice of number of PoE and ports, they are ideal for powering wireless access points, voice over IP phones, surveillance cameras, building automation and Internet of Things.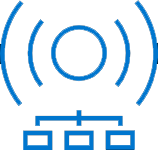 Improve performance at the edge.
The next-generation Dell PowerSwitch models support up to 48 ports of 10G multi-Gig with 90W PoE per port.

Reduce complexity at the edge.
Edge use case extends data center fabric to remote locations using the same network operating system and familiar data center networking tools to monitor, manage and deploy at the edge.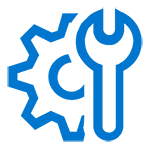 Drive efficiency and productivity through streamlined technology and innovative automation.
Open design of Enterprise SONiC Distribution by Dell Technologies with gNMI and REST APIs allows the same automation capability for the edge, previously available only for the data center.