Dell PowerConnect W-AP134/135 Access Point

Deploy flexible, high-speed APs for your wireless LAN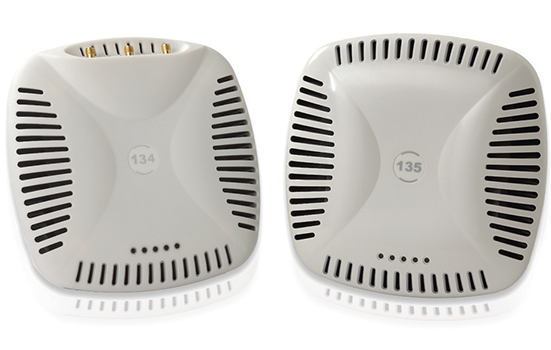 Sorry, this product is no longer available, Please, contact us for a replacement product!
Overview:
Dell PowerConnect W-Series W-AP134 and W-AP135 indoor 802.11n access points (APs) are designed to maximize performance for mobile devices in high density Wi-Fi environments and ensure strong threat protection using integrated MACSec security.
These multifunctional APs deliver wire-like performance at data rates up to 450 Mbps per radio. Taking advantage of 802.11n technology, the W-AP134 and W-AP135 employ three spatial streams to deliver 50% more data throughput in high-density environments compared to previous-generation W-Series APs like AP124.
The W-AP134 and W-AP135 feature two 3x3 MIMO dual-band 2.4-GHz/5-GHz radios. The W-AP134 has external antenna interfaces, while the W-AP135 features the same radios with internal antennas. Both are built to provide years of trouble-free operation and are backed by an Extended Lifetime Warranty.
The W-AP134 and W-AP135 feature dual 10/100/1000BASE-T Ethernet interfaces and are capable of operation from standard 802.3af and 802.3at power-over-Ethernet (PoE) sources. The secondary Ethernet interface (active only when supplying 802.3 at PoE or DC power to the access point) enables secure authorized backhaul for wired network-attached devices.
Working with Dell's line of centralized PowerConnect W Series Controllers, the W-AP134 and W-AP135 deliver secure, high-speed wireless network services for user mobility that works seamlessly within enterprise,branch office and campus network deployments.
802.11n enables the use of wireless as a primary connection with speed and reliability comparable to a wired LAN. It also increases performance by utilizing techniques such as channel bonding, block acknowledgement and MIMO radios. Advanced antenna technology also increases range and reliability.
Key to ensuring wire-like performance and reliability is the W-Series Adaptive Radio Management (ARM), which manages the 2.4-GHz and 5-GHz radio bands to deliver maximum client performance. Adaptive Radio Management enables different 802.11 a, b,g and n wireless clients to operate on the same network at maximum possible performance through the use of band steering, airtime fairness policies between clients, and by managing channel interference that may occur between access points.
The multifunction W-AP134 and W-AP135 can be configured through the controller to provide WLAN access with part-time air monitoring, dedicated air monitoring for wireless IPS, Remote AP (RAP) functionality or secure enterprise mesh.
---
Pricing and product availability subject to change without notice.
Sorry, this product is no longer available, Please, contact us for a replacement product!