Dell Networking W-AP224/225 Access Points

Ultimate performance and scale for mobile devices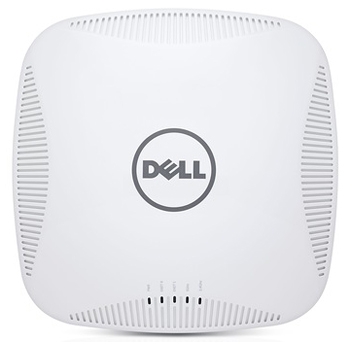 Sorry, this product is no longer available, Please, contact us for a replacement product!
Overview:
Multifunctional 220 series wireless APs deliver gigabit WiFi performance to 802.11ac mobile devices. Integrated ClientMatch™ technology ensures consistently high performance across the WLAN infrastructure.
With a maximum data rate of 1.3Gbps in the 5GHz band and 600Mbps in the 2.4GHz band, 220 series APs are three times faster than 802.11n APs and provide performance similar to a wired connection.
The 220 series APs include ClientMatch technology, which eliminates sticky clients by continuously gathering session performance metrics from mobile devices. This information is then used to steer each mobile device to the best AP and radio on the WLAN.
Proactive and deterministic, ClientMatch dynamically optimizes WiFi client performance as users roam and RF conditions change. If a mobile device moves out of range of an AP or RF interference impedes performance, ClientMatch automatically steers it to a better AP.
With ClientMatch, 220 series APs load web pages faster, deliver video streams with improved quality and support high densities of mobile devices. An 802.11ac network without ClientMatch performs no different than an 802.11n WLAN.
The 220 series APs additionally support priority handling and policy enforcement for individual Microsoft Lync media on the same device, including encrypted videoconferencing, voice, chat and desktop sharing.
Unique Benefits
Allows phased wired infrastructure upgrades.

Adapts to available 802.3af power-over-Ethernet (PoE) instead of requiring customers to upgrade to 802.3at PoE+

Delivers 1.9Gbps aggregate throughput.

EtherChannel link aggregation on two Gigabit Ethernet ports provides 1.9Gbps throughput.

600Mbps in the 2.4GHz band.

Supports up to 600Mbps for TurboQAM-enabled mobile devices operating in the 2.4GHz band – an industry first.

Best-in-class RF management

Integrated Adaptive Radio Management™ technology manages the 2.4GHz and 5GHz radio bands and ensures that APs stay clear of RF interference.

Spectrum analysis

Capable of part-time or dedicated air monitoring, the spectrum analyzer remotely scans the 2.4GHz and 5GHz radio bands to identify sources of RF interference.

Wireless mesh

Wireless mesh connections are convenient where Ethernet drops are not available.

Security

Integrated wireless intrusion protection offers threat protection and mitigation and eliminates the need for separate RF sensors and security appliances.
With an OpenDNS service subscription, Dell Instant APs deliver integrated web filtering, malware and botnet protection to every device connected to the WLAN.
Encrypted IPsec VPN tunnels securely connect remote users to corporate network resources.
Integrated Trusted Platform Module (TPM) for secure storage of credentials and keys.
SecureJack-capable for secure tunneling of wired Ethernet traffic.
Choose your operating mode
Controller-managed AP or Remote AP (RAP) running ArubaOS™. When managed by Dell Mobility Controllers, 220 series APs offer centralized configuration, data encryption, policy enforcement and network services, as well as distributed and centralized traffic forwarding.
Dell Instant AP running InstantOS™. In Instant mode, a single AP automatically distributes the network configuration to other Instant APs in the WLAN. Simply power-up one Instant AP, configure it over the air, and plug in the other APs – the entire process takes about five minutes.
Spectrum analysis identifies sources of RF interference
Air monitor provides wireless intrusion protection
Hybrid AP serves WiFi clients and provides wireless intrusion protection and spectrum analysis
Secure enterprise mesh
If WLAN and network requirements change, a built-in migration path allows 220 series Instant APs to become part of a WLAN that is centrally managed by a Mobility Controller.
---
Pricing and product availability subject to change without notice.
Sorry, this product is no longer available, Please, contact us for a replacement product!