Dell Networking W-IAP104 & W-IAP105 Instant Access Point

WiFi without a dedicated external controller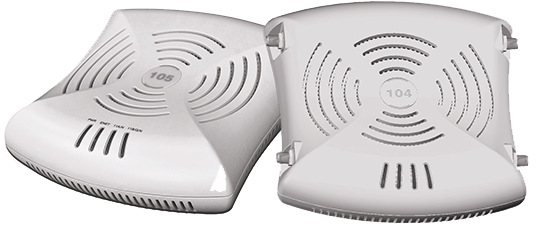 Sorry, this product is no longer available, Please, contact us for a replacement product!
Overview:
Dell Networking W-IAP104 and W-IAP105 802.11n-based Instant Access Points (IAPs) deliver the affordability and simplicity of an entry-level, enterprise-grade WiFi network.
The W-IAP104 features 2x2 MIMO dual-band 2.4/5GHz radios with the interface to connect external antennas while the W-IAP105 features the same radios with integrated internal antennas. Both deliver data rates of 300Mbit/s per radio built to provide years of trouble-free operation backed by an Extended Lifetime Warranty.
Virtual controller technology
Virtual controller technology in the Dell Networking W-IAP 104/105 delivers enterprise-grade controller capabilities without requiring a separate access point controller. The virtual controller in a single IAP is capable of controlling multiple IAPs in a network. Like a dedicated controller, an IAP is able to perform key tasks such as AP auto discovery, 802.1X authentication, role- and device-based policy enforcement, rogue detection as well as specialized Adaptive Radio Management (ARM) that optimizes WiFi client behavior by making sure that IAPs stay clear of RF interference. When multiple IAPs are connected together, a single IAP acts as a primary virtual controller. In the event of primary virtual controller failure, another W-series IAP within the same network automatically takes on the role with no disruption to services. Scalability of IAP network is bounded by Layer-2 network design best practices. However, for W-IAP92/93-based networks, the limit is 16.
Ease of deployment
Dell Networking W-IAPs are designed to be up and running in minutes. From a laptop, simply connect wirelessly to an SSID to perform over-the-air provisioning in quick, easy steps. To expand the network, just install more Dell Networking W-IAPs — configuration is automatically uploaded to new units. You can dedicate one radio in a dual-radio W-IAP to form a wireless mesh type of network and eliminate cabling between W-IAPs.
Management and visibility
Multiple Dell Networking W-IAP networks can be securely and centrally managed by the Dell W-Series AirWave software management suite, allowing W-IAPs to operate hundreds of remote locations. With Dell Networking W-Series AirWave, IT has real-time visibility into users, mobile devices, wired and wireless LAN infrastructure all from a single management console.
In addition, Dell also offers the OpenManage Network Manager (OMNM) management software — an easy-to-use, customizable web-based management interface tool. OMNM with minimum OS version 5.0 delivers support for the full line of Dell Networking products, including W-Series wireless devices, and offers enhanced features for traffic flow analysis, deployment, monitoring and management. OMNM comes with 10 free licenses. Each IAP-based network uses one license, while the remaining nine licenses may be used for your other devices.
Investment protection
As WLAN requirements expand, the Dell Networking W-IAP can be re-imaged as an 802.11n campus AP and migrate to a centralized Mobility Controller architecture capable of supporting hundreds and thousands of APs. In addition to providing WLAN access, campus APs in a centralized controller architecture can provide more advanced wireless intrusion protection and powerful spectrum analysis capabilities.
---
Pricing and product availability subject to change without notice.
Sorry, this product is no longer available, Please, contact us for a replacement product!