Dell Networking W-IAP274/275 Instant Access Points

Setting a higher standard for 802.11ac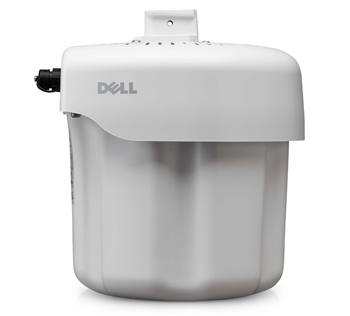 Sorry, this product is no longer available, Please, contact us for a replacement product!
Overview:
Innovative and aesthetically-designed 270 Series outdoor wireless access points deliver gigabit Wi-Fi performance to 802.11ac mobile devices under any weather condition. The 270 Series is also the only outdoor access point (AP) that enables 802.11n clients to operate three-times faster at greater distances.
Purpose-built to survive in the harshest outdoor environments, 270 Series APs withstand exposure to extreme high and low temperatures, persistent moisture and precipitation, and are fully sealed to keep out airborne contaminants. All electrical interfaces include industrialstrength surge protection.
With a maximum data rate of 1.3 Gbps in the 5GHz band and 600 Mbps in the 2.4GHz band, 270 Series outdoor APs supports concurrent dual-radio operation at speeds that greatly exceed Fast Ethernet.
Wi-Fi Client Optimization
To eliminate sticky client behavior and ensure consistently high performance, every Dell Networking AP includes ClientMatch™ technology, which gathers session performance metrics that steer mobile devices to the best AP and radio on the WLAN in real time.
Unique Benefits
Innovative industrial design

Eliminates installation complexity
Inconspicuous design that improves aesthetics
Delivers IP66- and IP67-rated protection from the elements
Best-in-class RF management
Integrated Adaptive Radio Management™ technology manages the 2.4GHz and 5GHz radio bands and ensures that APs stay clear of RF interference

Reliable and predictable Wi-Fi performance

Patented ClientMatch™ technology ensures that roaming clients associate with the best AP to maximize performance
AppRF™ technology identifies and prioritizes applications on the network

Spectrum analysis

Capable of part-time or dedicated spectrum analysis, which scans the 2.4GHz and 5GHz radio bands to identify sources of RF interference

Extended lifetime warranty – an industry first for outdoors
Choose your operating mode
The 270 Series outdoor APs offers a choice of operating modes to meet your unique management and deployment requirements.
Controller-managed AP operating in campus or remote mode. When managed by Dell Networking W-Series Mobility Controllers running AOS™, the 270 Series offers centralized configuration, data encryption, policy enforcement and network services, as well as distributed and centralized traffic forwarding.
Instant AP running InstantOS™. In Instant mode, one AP automatically distributes the network configuration to other APs. Just power-up one Instant AP, configure it over the air, and plug in the other Instant APs – the entire process takes about five minutes.
In addition to operation mode, the APs can be optionally configured to perform the following functions:
Spectrum analysis: Dedicated scan mode identifies sources of RF interference.
Air monitoring: Dedicated scan mode provides wireless intrusion protection.
Hybrid AP: Serves Wi-Fi clients and simultaneously provides wireless intrusion protection and spectrum analysis.
If WLAN and network requirements change, a built-in migration path allows 270 Series Instant APs to become part of a WLAN that is centrally managed by a Mobility Controller.
---
Pricing and product availability subject to change without notice.
Sorry, this product is no longer available, Please, contact us for a replacement product!