Dell Networking W-IAP3WN & W-IAP3WNP Instant Access Points

Simplified wireless for remote offices and teleworkers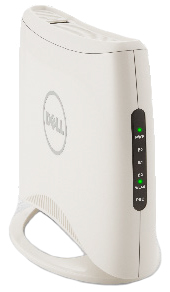 Sorry, this product is no longer available, Please, contact us for a replacement product!
Overview:
Deliver secure 802.11n wireless network access to corporate resources using the multi-functional W-IAP3WN. Deliver enterprise-grade connectivity ideal for small offices and remote workers.
The Dell Networking W-IAP3WN Instant Access Point is a powerful platform for a small branch office or for power-users who work from a home office.
Two Fast Ethernet ports to connect additional users or devices
One USB port for connecting a cellular modem
Up to 300Mbps wireless data rate with 2x2 MIMO 11n technology
Power-over-Ethernet (PoE) option available for powering external IP phones or other devices
VPN capability when connecting to a W-Series controller-based network
Extended Lifetime Warranty
Virtual controller technology
Networking Instant Access Points deliver enterprise-grade capabilities without the need for additional hardware or separate wireless controller. The built-in virtual controller is capable of controlling multiple Instant Access Points regardless if they are onsite or dispersed across remote locations.
Robust functionality
The W-IAP3WN can perform key tasks such as: auto discovery, authentication, policy enforcement, rogue detection, and Adaptive Radio Management (ARM) to optimize Wi-Fi connectivity and even adjust for RF interference.
Establish an extensive WLAN with ease
W-Series Instant Access Points are designed to be up and running in minutes. Simply plug the device to your network connection and perform a quick configuration using your wireless laptop. To expand the network, just connect another Instant Access Point to the network and configuration is automatically uploaded to the new unit.
Centralized management and remote visibility
Dell W-Series Instant Access Points are fully manageable as standalone wireless devices, utilizing an integrated web interface.
You can add multiple Instant Access Points easily, and they will automatically download the configuration from the primary Instant Access Point.
In addition, multiple Instant Access Point networks can be managed from a single location using W-Series AirWave management suite. The Dell W-Series AirWave Management Suite delivers a consolidated view of your global wireless infrastrucuture and provides centralized management for multi-vendor networks.
Optionally, Dell OpenManage™ Network Manager (OMNM) can manage the full line of Dell Networking products including the wired and wireless switches in your network.
Investment protection
W-Series Instant Access Points are flexible and can be converted to standard access points as your WLAN expands. This feature allows you to migrate your existing investment to a centralized Mobility Controller architecture capable of supporting hundreds and thousands of access points and providing more advanced wireless intrusion protection and powerful spectrum analysis capabilities.
---
Pricing and product availability subject to change without notice.
Sorry, this product is no longer available, Please, contact us for a replacement product!